USI Money, a fintech cross-border payment service provider hosted the Makkah Chamber of Commerce and Industry from Saudi Arabia along with the All Party Parliamentary Group on Hajj & Umrah and The Council of British Hajjis at its offices.
USI Money a recognised leading payment provider to Saudi also attended an earlier reception in the day at the House of Lords the second chamber of the UK Parliament where over 30 businesses from across a range of industries were present as part of the Saudi Delegation.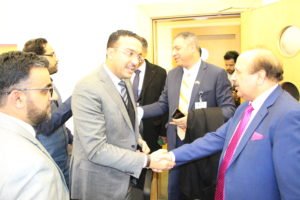 The visit to USI Money was attended by Lord Qurban, vice chair of the APPG, Hisham Muhammad Kaaki, Marwan Shaaban the chairman and vice chairman of the Makkah Chamber of Commerce and the of the National Committee for Hajj & Umrah respectively, Mr Mazen Derar, member of the board. Also in attendance was Rashid Mogradia, CEO of the council of British Hajjies.
Khaleeq Taimuri, Director of USI Money said: "It is an honour for us to be hosting the Makkah chamber of commerce and the APPG. It is also testament and recognition to great work which we continue to support. We have held extremely productive discussions and look further to enhance cooperation between all stakeholders in the United Kingdom and the Kingdom of Saudi Arabia"
UK exports of services to Saudi Arabia in 2017 were £2 billion. Imports of services were worth about a quarter of that amount. The UK had a surplus of about £1.5 billion in services.
Hisham Muhammad Kaaki, said "USI Money is clearly a leader in their field. The Makkah Chamber of Commerce is here in London to promote trade and enhance corporation".
Mawan A Shaaban said "The trade between the Kingdom of Saudi Arabia and the United Kingdom continues to rise. Our objective at the Makkah Chamber of Commerce is to work and promote these important trade relations."
Travel services were the biggest category of trade in both directions. For UK exports, financial services came in second.
Rashid Mogradia, said "It's always a pleasure to drop in to see the team at USI Money and to get an update on some of the fantastic work they are doing."
USI Money is a trading name of Universal Securities and Investments Ltd and has been offering payment services for over 10 years, USI has recently been investing significantly in developing its technical proposition.